Digital Automotive Retail is a necessity, not a novelty.
We are passionate about helping automotive retailers to maximize sales through proper digital environments and data management. Our tools were built through appreciation of the values of transparency and efficiency.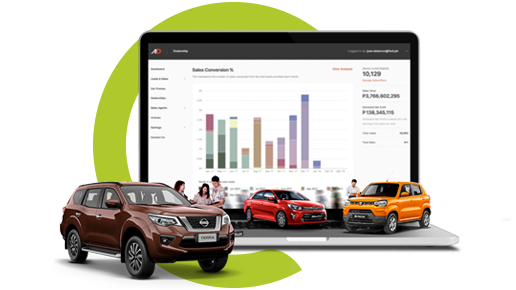 The idea for SirQo began in 2010 when we were tasked with acquiring a company vehicle. During that time, there was a real shortage of online resources to help make this process easy; even connecting with dealers to get a quote or book a test drive was a real pain in the ass. That problem led to our founding team developing our first online automotive platform, which aimed to provide consumers with comprehensive online vehicle information while at the same time providing a safe and trusted way to connect with dealerships across the country.
As the platform grew, more car-buyers flocked to our website and we continued to send an increased number of leads to dealerships. At the time we were feeling pretty happy with ourselves until we unrooted an even bigger problem.
As time progressed we started to realize that car-buyers were simply not getting replies from dealers or that the process of agents replying to customer inquiries was taking more than a week. As a result, prospective car-buyers were not getting the experience that they deserved and as a result, the negative customer experience with the dealership they inquired with, actually prompted them to purchase from a competitor. The whole debacle of poor response times was making us and our partners look bad, something had to be done.
As we delved deeper we realized that there was a major absence of technology, expectations, and education revolving around online-leads, not to mention several cultural and organizational norms that had to be challenged. To be successful in the industry, we had to be more than simply lead-farming and as a result, we decided to invest in building a digital infrastructure that would provide an online ecosystem that would simultaneously support and guide car-buyers while at the same time providing support and services for dealers. As a result, SirQo was born.
In the beginning, our original goal was to have SirQo technology simply support the communication channels for agents and dealers engaging across AutoDeal.com.ph - our online automotive marketplace. We started off by rolling out our initial lead-management technology as a free inclusion for anyone who had advertised on our marketplace. Over time the introduction of this technology-empowered agents to sell more effectively and steadily increased our dealer lead to sale conversion rates over time.
Over time our SirQo lead-management system has matured as a result of having hundreds of discussions, consultations, and feedback from the Philippine automotive industry. From 2014 to 2020, our technology has been used by more than twelve major automotive distributors, four-hundred dealerships, and three thousand sales agents. We have garnered over one million leads and contributed to over one-hundred thousand successful car transactions.
Today our 70 team members continue with the mission of building great user experiences, seamless processes, and digital tools to enable discovery, communication, and vehicle purchases online.
Talk to us, we're always happy to help
If you have a general question for us, then please email info@sirqo.com, and someone from our customer service team will get back to you asap.
If you want to discuss something about your business, technology or new ideas we are always here to have a chat about it, and you can reach out to our founders; Daniel Scott at daniel@sirqo.com and Chistopher Franks at christopher@sirqo.com.
Over 500 companies in the Philippines rely on SirQo.com












1M+
managed quality leads
100k+
processed vehicle sales
500+
partner dealers nationwide
15+
trusted automotive brands
Companies that we have worked with
At the end of the day, going forward, a new normal that has evolved from generation X is on the runway
"We can see exactly what needs to be done and when. We're much more efficient."
- John Smith, CEO, Spotify
"We can see exactly what needs to be done and when. We're much more efficient."
- John Smith, CEO, Spotify
"We can see exactly what needs to be done and when. We're much more efficient."
- John Smith, CEO, Spotify